Leading the Sheltied Life!
Featured Dog Available Now: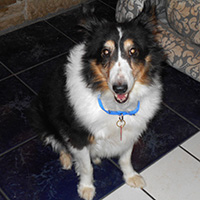 JAX is a 10-12 year old sheltie who was turned in as a "stray" to a large animal control facility. His bloodwork shows that he has something going on in his system. He's currently on a second round of antibiotics. If this doesn't correct the problem, then we know that he has cancer or some other disease vs. an infection. Jax has a home waiting for him as soon as we figure out what his needs will be. It's pretty clear that he was turned into the shelter and was not a stray at all. The owner probably knew that she had a sick dog on her hands and didn't want to pay for the vet care that was needed. It would be nice to know his vet history and at least his age and name so we could have some baseline to go by.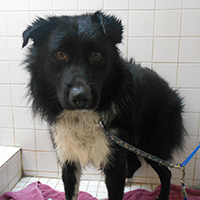 SHEP - This pretty guy came to us from a rescue that was full of shelties and asked if I had room for him and another non-sheltie (already adopted). Shep is an Austrailian Shepherd. He is about 8 months old and full of energy and also full of the dickens, as my mom used to say. He is about 50 pounds and loves all dogs, a scheduled neutering should help him to play more appropriately. Right now, all he wants to do is hump and no one here appreciates that type of play. He has quickly learned that sleeping in a crate indoors is better than sleeping outdoors. He was great for his bath and would need to go to an obedience class with whomever decides to adopt him. He doesn't have basic manners and it seems like now he thinks it's a game if he can jump on me without me catching and correcting him. He's fast!! So maybe there's some agility in his future? Shep would be hard to handle without a fenced in yard, but the right person could handle it.
About Wisconsin Sheltie Rescue
Wisconsin Sheltie Rescue has two main purposes:
Find new homes for displaced Shelties.
Educate the public about the Shetland Sheepdog breed.
Since 1995, WSR has rescued over 1,600 dogs and has mentored other rescue organizations through their own startup phase.
Wisconsin Sheltie Rescue is an all-volunteer group that grows every year by the number of adopters dedicated to helping dogs lead the "sheltied" life. All WSR dogs are beloved family members, some are also agility and obedience champions.
Shelties come to rescue at all ages, from puppy to 15+ years. The breakdown in age of WSR shelties is:
0-3 yrs. 15%
4-9 yrs. 50%
10+ yrs. 35%
No matter the age or background, each dog has the potential to "lead the sheltied life." There is a perfect home out there for each dog, and WSR helps that home find their perfect dog. Perfection in home and dog has little to do with housekeeping and adherence to breed standard. Perfection has everything to do with the "match." WSR constantly strives to create that perfect match between human and canine.
General information about our adoption process:
We are not taking new applications at this time. For any questions, contact us.
Links of interest: