Dogs Available Now:
Interested in adopting? Contact us to request an application.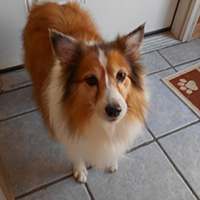 CLAUDIA (formerly Cherokee) - She is 9 years old (DOB 4-15-06). She's had three litters with Vern. She is sweet and just the perfect size. Her eyes are weepy alot so I had that checked out at the vet and it looks like she's just getting used to the change in seasons and the stains are old. She never itches or rubs them so it's not allergies. She was just recently updated on her shots and HW tested.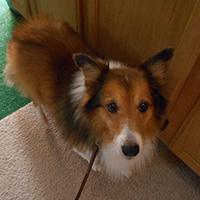 This is VERN (formerly Apache). He didn't know his name so we changed it to honor the folks who gave him a ride. Vern is 10 years old (DOB 11-14-04) and has sired three litters with Claudia (see other available dog.) He was recently neutered, HW tested and brought up to date on his shots. He is a friendly guy and an attention hog. He is a nice medium size, has a good recall, but likes to herd you as you go in and out the door as he's barking at you.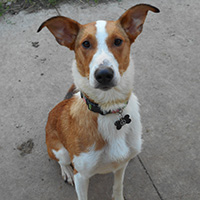 This is LUNA. I've nick named her Lunatic. She is flippin adorable and fun and would make a great pet for anyone. She is a smooth collie about 1-1/2 years old. housebroken, great with kids and other animals. She is a TERRIBLE countersurfer. TERRIBLE. She would benefit greatly from some obedience classes, although she knows sit and will do anything for food. She loves other dogs so it would be sad if she went to a home where she was the only dog.
Our Obligation
As a rescue organization, our obligation is to the dogs in our care. It is in the best interest of the dogs who come here for us to maintain confidentiality of the people who call us for help rehoming their dogs.
As a result, you may notice some dogs posted on this site without their name. Unfortunately, breeders who are not supportive of rescue have watched our website and if they knew the dog by name, instead of praising rescue for helping a dog that might have otherwise ended up at a shelter or euthanized, proceeded to contact the people who surrendered the dog and harass them.
We are not interested in getting involved in (written or oral) contract disputes between breeders and the people to whom they sell puppies. It is certainly not part of our mission to enforce any contracts for them.
Our #1 obligation is the well-being of the dogs who come to us. In the best interest of the dogs in our program, our loyalty is to the people who adopt dogs from our rescue, and the ones who call us to help with their dogs.
Links of interest: