Dogs Available Now:
Interested in adopting? Contact us to request an application.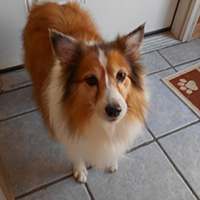 CLAUDIA (formerly Cherokee) - She is 9 years old (DOB 4-15-06). She's had three litters with Vern. She is sweet and just the perfect size. Her eyes are weepy alot so I had that checked out at the vet and it looks like she's just getting used to the change in seasons and the stains are old. She never itches or rubs them so it's not allergies. She was just recently updated on her shots and HW tested.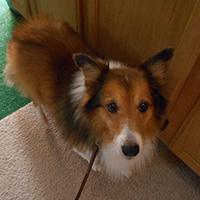 This is VERN (formerly Apache). He didn't know his name so we changed it to honor the folks who gave him a ride. Vern is 10 years old (DOB 11-14-04) and has sired three litters with Claudia (see other available dog.) He was recently neutered, HW tested and brought up to date on his shots. He is a friendly guy and an attention hog. He is a nice medium size, has a good recall, but likes to herd you as you go in and out the door as he's barking at you.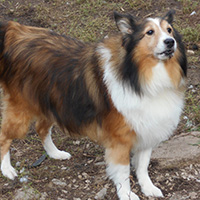 This pretty boy is ROCKY. He is an oversized male, but not too big. He's 9-10 years old and was left on the doorstep of a dog lover back when he was 3 years old. She thinks the people left him because they knew she would take care of him, which she did for the last 7 years. She got him neutered, teeth cleaned and gave him a good home, but now she has to move in with her senior citizen father to take care of him and is only allowed to take one of her dogs, under 20 pounds. Rocky is a great dog, well trained and no bad habits. He walks well on a leash and is completely housebroken. He loves everyone he comes in contact with and is content to sit outside and watch the scenery too.