Dogs Available Now:
Interested in adopting? Contact us to request an application.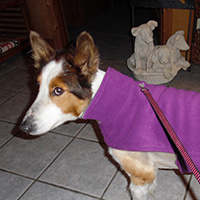 BAILEY is an 11-year old sheltie that we were contacted to take who had been living outside for the last while. From what I understand, the family lost their home to a fire and moved to a place that wouldn't allow him indoors. I wish they would have contacted me then.
Bailey is slowly getting used to being an indoor dog again, but sadly, his coat was in horrible shape and he was very matted and not tolerant of grooming at all because it was so painful. He's now sporting a crew cut and a jacket, but he's so much more comfortable. Neuter and HW test are underway, and he'll be acclimated to other dogs and tested on cats. He is very sweet, has a raspy bark, almost as if he's debarked and was purchased as a puppy from a puppymill. Bailey would love a home where he's the only dog again, INDOORS this time. If you have a place in your heart for a senior dog who shows such gratefulness, please contact me.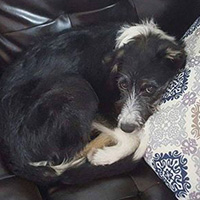 OZZIE is a 6 month old border collie who was sold as an 8 week old puppy to a girl and her kids who probably bit off more than they could chew with a herding dog. Then they moved to an apartment and the challenge was even greater. He was bred on a farm and according to the owner, was part of an 'oops' litter so he was available at the bargain price of $350.00 without papers.
Folks, there are two border collie rescues in WI that are always full. To me, you only have an 'oops' litter for two reasons. 1. You have too many dogs and are negligent. or 2. You are just negligent. If you can't manage unwanted litters properly then get your pets fixed and give up trying to breed.
Anyway, Ozzie is very timid and lacks confidence so an agility home is probably out of the question, even though this breed normally excels at performance sports. He is getting used to coming in and out when he's called and immediately jumps on you for attention, which I'm allowing for now, just because I'm happy that he's showing an interest in people. We'll work on manners later. Ozzie will be neutered this week (3/9/16). Thankfully, he ended up in rescue, because the folks who had him, thought that it would be a good idea for Ozzie to start siring puppies as soon as he was old enough. With his timid personality, there really aren't any qualities that you would want to pass on to a whole litter!!
Ozzie is looking for a home preferably with a fenced in yard and other dog to play with. I think that his new family would really benefit from obedience classes, if only to gain confidence!! Ozzie is crate trained and ready for his new forever home.
Update 3/31/16
I contacted several border collie rescues for assistance with placing Ozzie and instead of assisting, the breeder was notified who then contacted me to demand 'their' dog back. Ozzie was 'accidentally' bred on a working sheep farm in Portage, WI. Without papers, they still sold him to a pet home for $350.00 who only managed to keep him for a few months due to his strong herding instinct. WSR will NOT be returning Ozzie to the breeder. We have been to the property for herding events in the past and after witnessing many of the dogs being kept in a dark hot shed, we had already decided to no longer hold events there. I would not feel comfortable returning Ozzie to live that life or be sold again. When I asked why Ozzie wasn't sold on a neuter contract so that someone who didn't know wha they were doing wouldn't start breeding dogs, the response was "many farmers are breeders who don't do that". They don't have return contracts either. Lesson learned all the way around I hope and unfortunately for Ozzie, he gets the raw end of the deal.
Our Obligation
As a rescue organization, our obligation is to the dogs in our care. It is in the best interest of the dogs who come here for us to maintain confidentiality of the people who call us for help rehoming their dogs.
As a result, you may notice some dogs posted on this site without their name. Unfortunately, breeders who are not supportive of rescue have watched our website and if they knew the dog by name, instead of praising rescue for helping a dog that might have otherwise ended up at a shelter or euthanized, proceeded to contact the people who surrendered the dog and harass them.
We are not interested in getting involved in (written or oral) contract disputes between breeders and the people to whom they sell puppies. It is certainly not part of our mission to enforce any contracts for them.
Our #1 obligation is the well-being of the dogs who come to us. In the best interest of the dogs in our program, our loyalty is to the people who adopt dogs from our rescue, and the ones who call us to help with their dogs.
Links of interest: